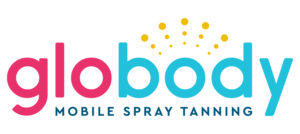 The Glo Rundown
Get the flawless tan that everyone is talking about!
GloBody specializes in all-natural airbrush tanning with organic ingredients. We offer a fabulous sunless tan enriched with anti-aging goodness. Plus, all of our solutions and products are vegan, paraben-free and cruelty-free. With 4 shades to choose from, our Glo is yours to customize. Enhance your Glo with our exclusive PureGlo product line. Become the best version of you and Glo from the inside out!
Natural & organic ingredients
Coconut water-based
Fast drying
Fabulous color
No streaking
No nasty odors
Choose from 4 shades
All tanning sessions include:
Pre-tan prep instructions and color consultation
Primer
Post-tan care instructions
Product recommendations
If you don't see a day/time that works for you, please text me 336-682-4819.
**For fitness competitions, parties, bridal parties, client appreciation events, cheer/dance teams, sororities, or any event of 5 or more, please contact me directly for booking. 336-682-4819 or Tara@Primelifefit.com**