Metabolic Renewal – #movemorestressless

I'm so excited to announce that Metabolic Renewal is on its way!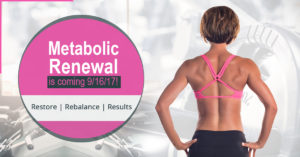 Mark your calendars for 9/16/17, as that is the first day this women's only workout and nutrition program will be available to the public.
If you are familiar with Metabolic Aftershock or Metabolic Prime, consider Renewal as the "next level"!
For women only, it will address the specific problem areas we face, at ALL stages of womanhood. A woman in her 20's is going to face different hormonal challenges, than a woman in her 50's. So it would make sense that they may need to eat and exercise differently, yes?
It is both and exercise and nutrition program, but at its core, it's also an education program of how we can work WITH our bodies instead of against them. This 12 week program will arm you with the knowledge of what works for you and what doesn't.
For updates and to get access to the program at special pricing, as well as special bonuses, coaching with me, and lots of other fun stuff, complete the form above to get on the wait list
Move More, Stress Less Challenge Pre-Party!
Research shows that adding non-exercise activity to our lifestyle can offer a big boost to our metabolism, Couple this will stress-relieving activities and regular exercise, and you have a winning formula!
The #MoveMoreStressLess challenge is a 7 day movement and stress-relief plan to lead us right into the launch of Metabolic Renewal. ALL the details of the challenge will go out on Friday, 9/8/17 so be sure you are on the Metabolic Renewal wait list by completing the form at the top of the page!
I created this challenge for two reasons:
I wanted something that EVERYONE can do. The issue with some exercise challenges is they be a little much for some folks.
For those who DO exercise regularly (like me), we can sometimes forget that we also need to MOVE our bodies outside of our workouts. Working out intensely is great, but if you then proceed to sit the rest of the day, you're doing your metabolism a huge injustice!
We'll have fun prizes and activities – the more you share, the more chances you have to win some sweet swag! Share this  page with anyone you feel would love to move more and stress less!